Purpose of My Website...

Hi! I am delighted that you have joined me at what I hope will be the "hot books" website for picture books, junior novels and juvenile non-fiction. Included are titles I believe to be among the best of the best.

For some of the titles I have added an idea for using the book(s) in the classroom. The ideas come from educators everywhere, so if you have a favorite book and an idea for sharing it, please e-mail it to me and I will include all that space allows.

I look forward to hearing from you !
AWARD - November 2005
Nancy Polette - Winner 2005 TAGT Legacy Award
for her book
Gifted or Goof Off Fact and Fiction of the Famous

Best Children's Book of 2004
"For improving the Lives of Gifted Children and Youth"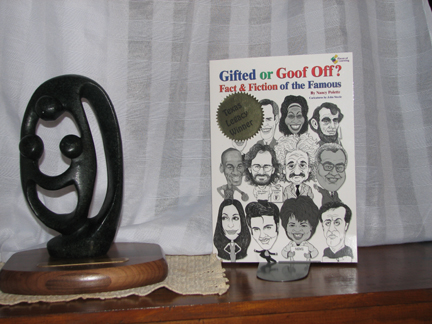 Published by Pieces of Learning

Literature Guides...

Each month I will feature a sample literature guide that you can use in your classroom.
Literature Seminars...

In a typical year, I work with over 30,000 educators leading workshops and presenting keynote talks in school districts and state and national educators' meetings.
Come back often...

The "Best Books" list will be updated frequently to share with you the best of the best!
Nancy Polette's Children's Literature Class.
Workshop Handouts